Enhance

guest experience,

generate new revenue stream with GuestService
While staying at your hotel, your guests will often require specific information regarding the services and products you provide. They will rely on you to provide them with detailed information to enhance their overall experience.
Set up for your hotel in 15 minutes, no credit card needed!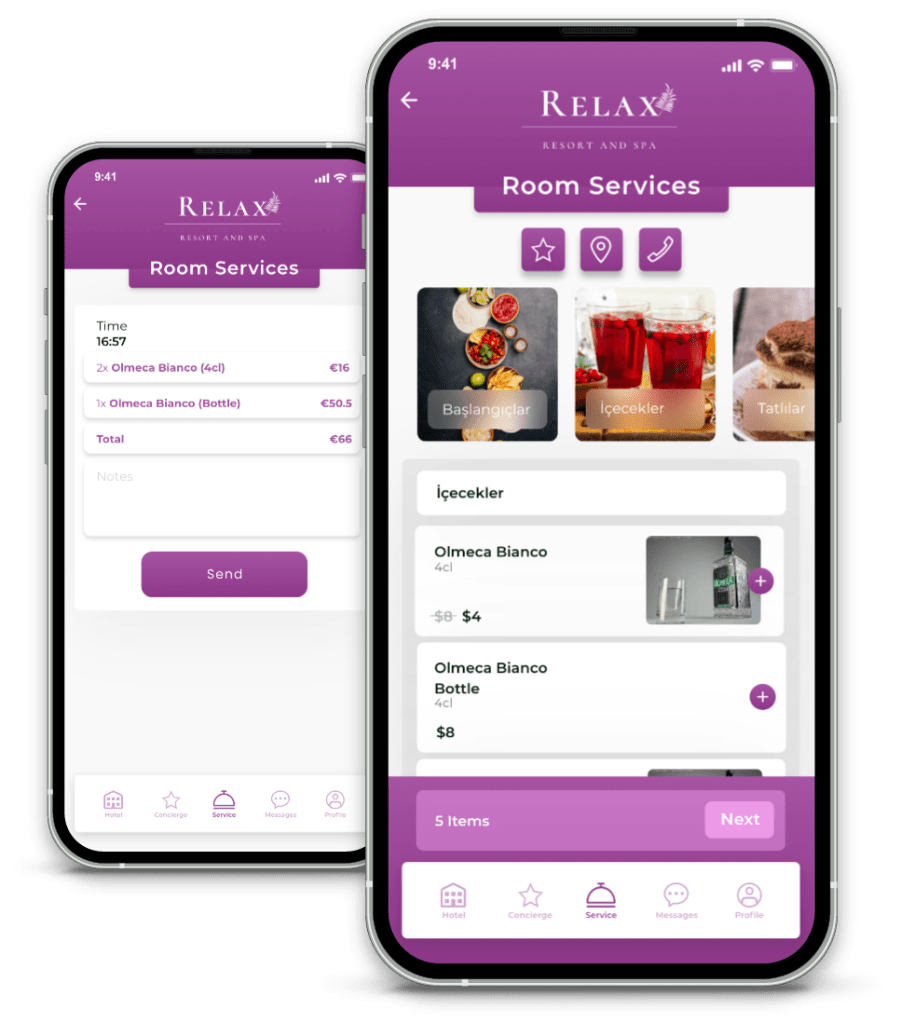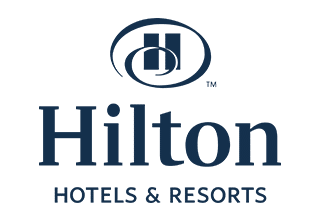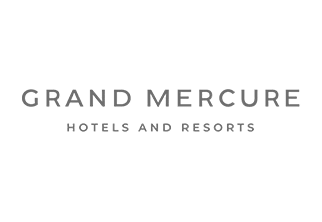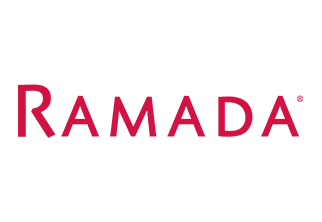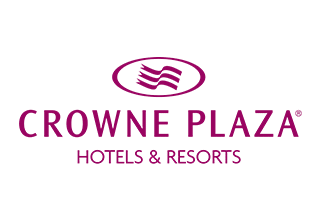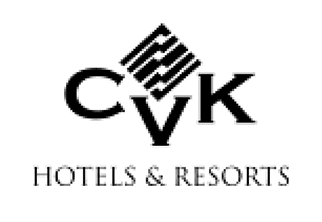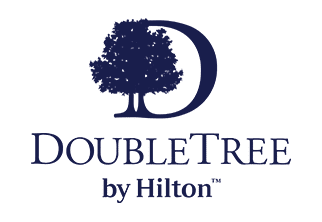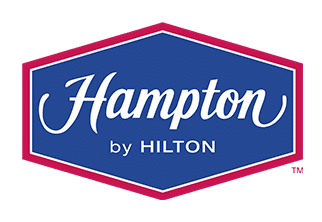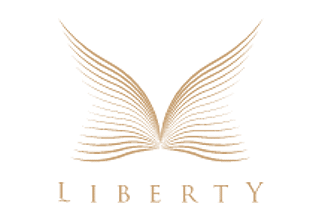 Unlock the revenue potential
Maximize your hotel's revenue potential and enhance your guests' dining experience with our Mobile & In-Room Dining services. Our Mobile App and Smart-Room Tablet technology provide a seamless dining experience for your guests while streamlining back-of-house operations. Customers can easily place an order and schedule its delivery through their Mobile App or In-Room Tablet. The digital menus and ordering process automate service requests delivery, order status follow-up, and track request fulfillment time, reducing the chances of human error.
With GuestService Dining, you can unlock the revenue potential of your F&B outlets by providing an integrated approach to hotel F&B management. Our software empowers your team to create personalized experiences and marketing programs for every guest throughout your entire portfolio.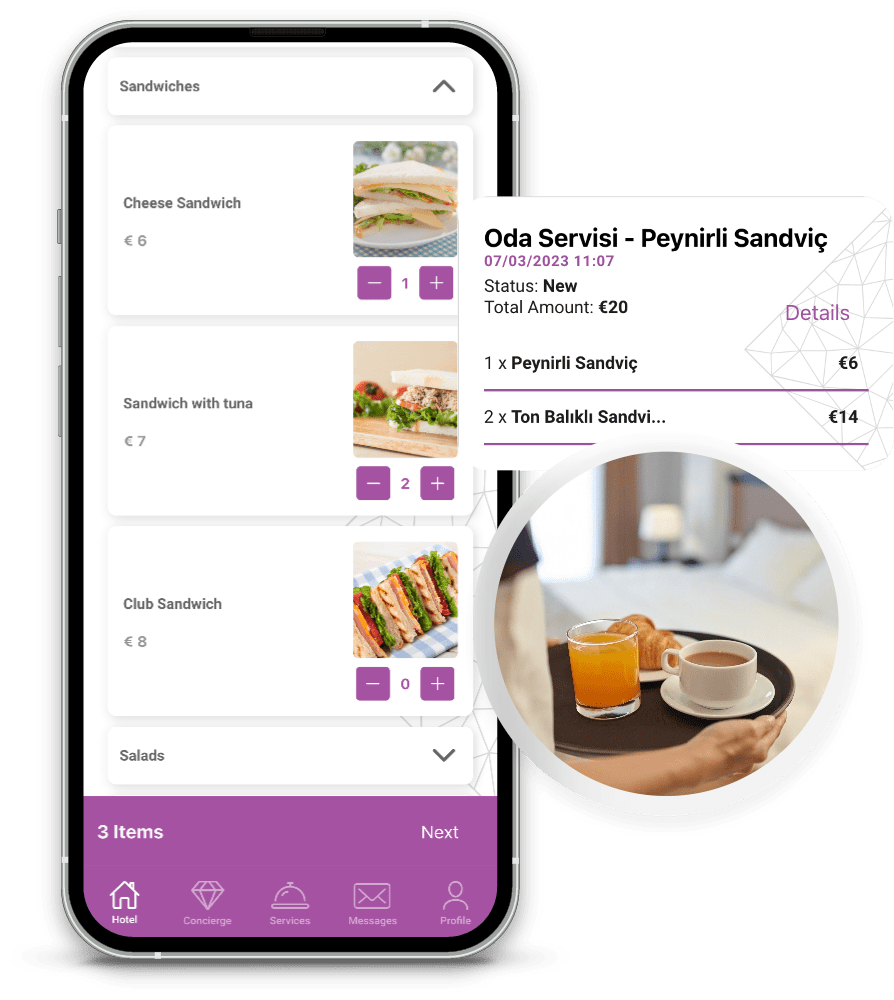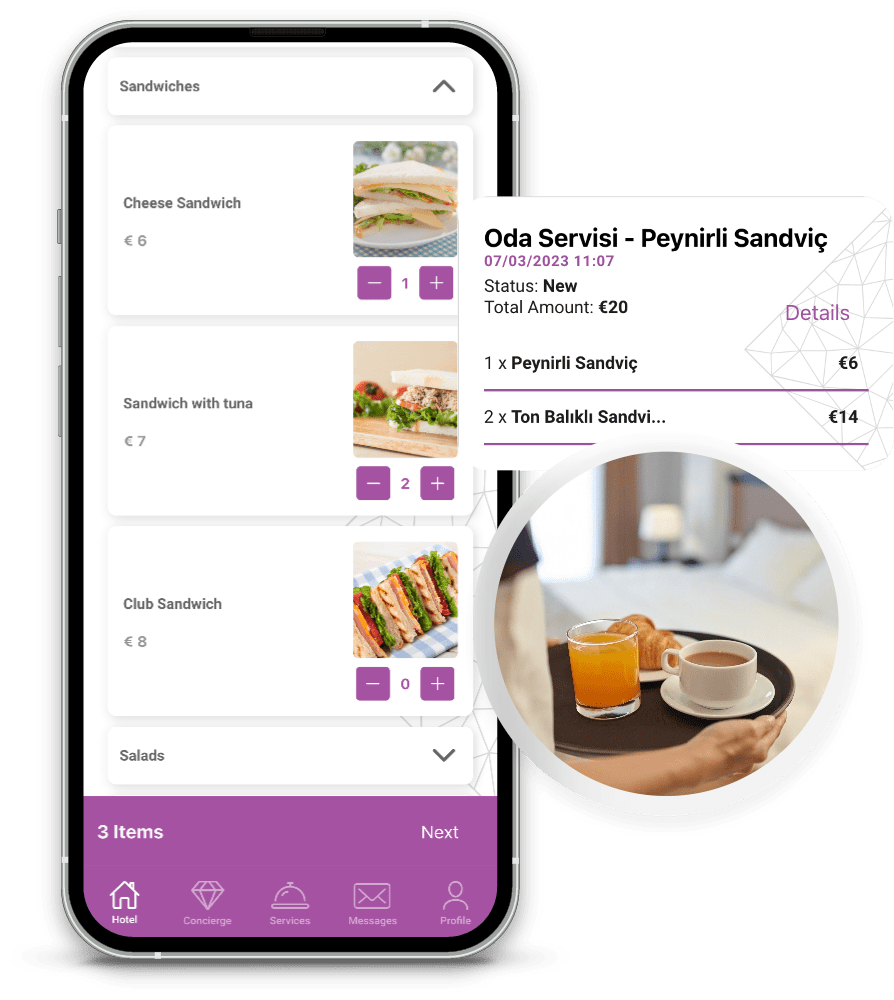 GuestService revolutionizes your guests' experience with digital room services. Contactless ordering and payment have become essential, and we provide the solution. Embrace the future of contactless self-service through smartphones with GuestService. Customers can easily access a vibrant digital menu by scanning a tabletop QR code or tapping an NFC tag with their smartphone, ensuring a seamless and convenient dining experience.
Our automated marketing tools help you deliver highly segmented and personalized campaigns and offers to all your guests, improving marketing ROI with targeted campaigns, and creating and promoting special offers and experiences.
Our platform is purpose-built for leading hotel brands, helping hotels of all shapes and sizes provide the best experiences to their guests.
Provide your guests with an exceptional housekeeping experience with GuestService. Allow your guests to communicate their requests easily from their phones and track the entire process. Delight your guests and stand out in your service.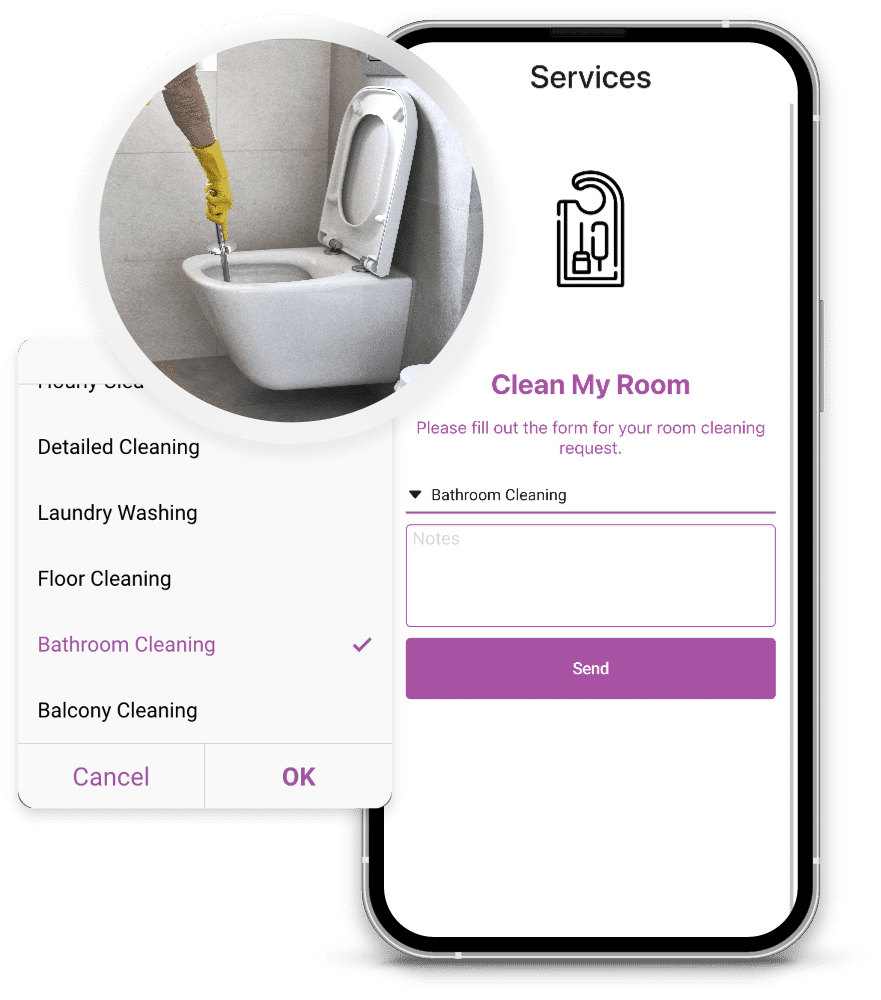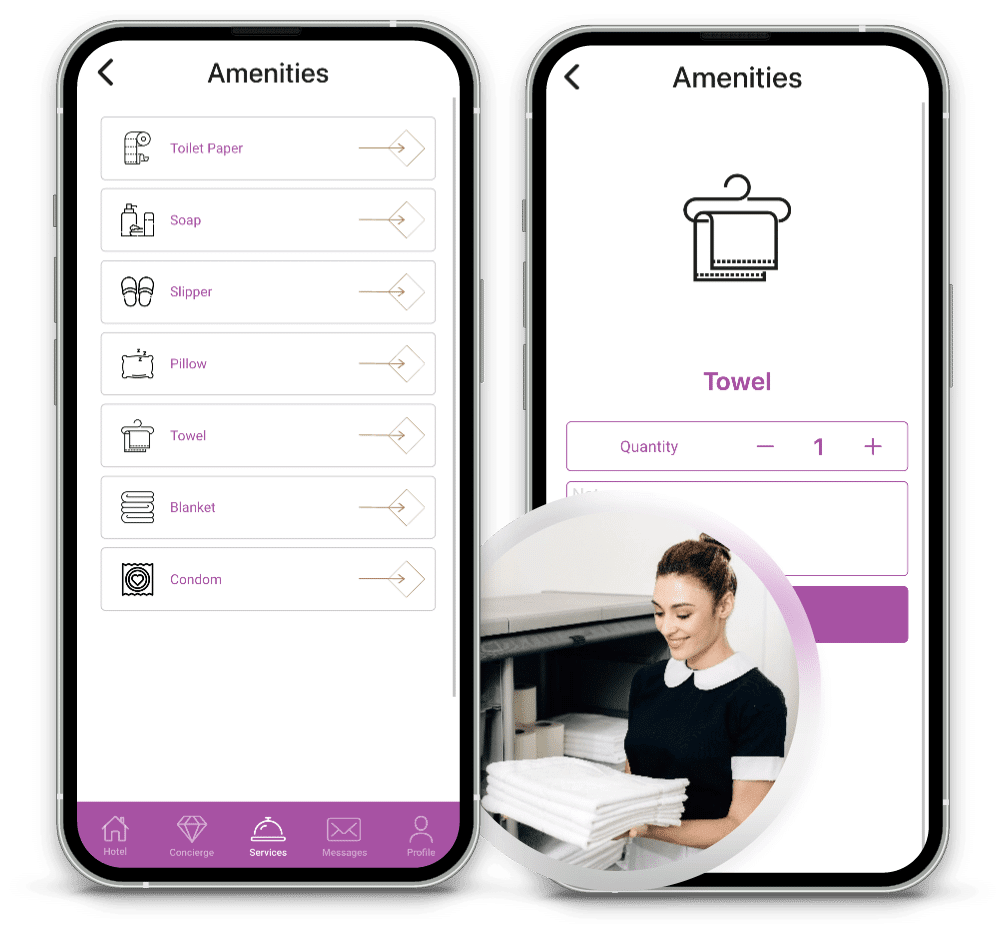 Ensure a delightful guest experience by eliminating unpleasant surprises. Prioritize guest satisfaction and empower them to easily communicate their room amenity needs via their mobile phones. Aim for happy guests and deliver a seamless and memorable stay at your hotel.
Efficiently resolve technical issues for your guests, ensuring their satisfaction and preventing any dissatisfaction. Streamline your technical service operations with centralized management. Empower your guests to conveniently submit their technical service requests through their mobile devices. Our goal is to create happy guests by consistently delivering exceptional service and exceeding their expectations.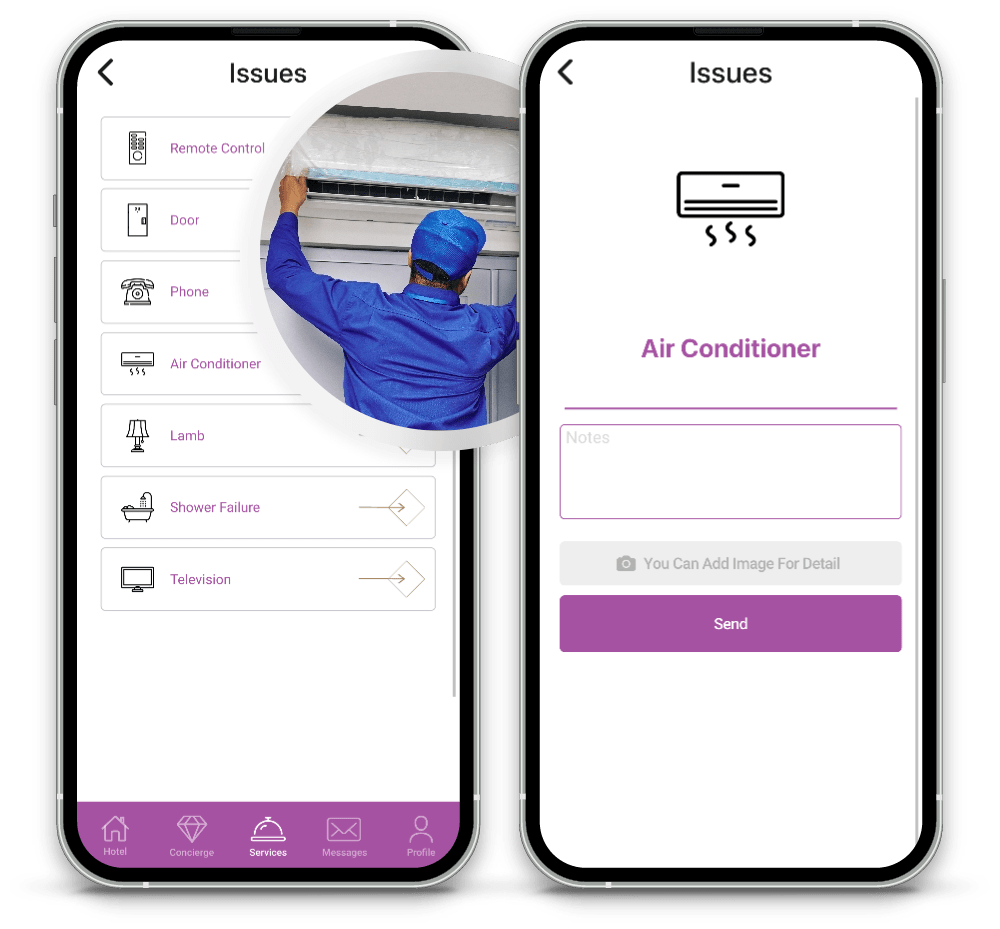 Schedule Your Discovery Call With Our Team Today.

"Our guests have been raving about our hotel's app since we started using GuestService. It has made their stay so much more convenient and personalized. The ordering module and messaging hub have made communication with guests a breeze, and our staff has been able to respond quickly to requests. I highly recommend this platform to any hotel manager looking to enhance their guests' experience."

"GuestService has been a game-changer for our hotel. The platform's customizability allowed us to create a branded app that perfectly aligned with our hotel's aesthetic and services. Our guests have appreciated the app's user-friendly interface and have been able to easily book services like restaurant reservations and luxury car transfers. Our account manager has been extremely helpful and has helped us optimize our use of the platform"

"We've seen a significant increase in direct bookings since implementing GuestService. Our guests love being able to plan their stay before they arrive, and the app's reminders and notes have helped us keep track of their requests. The platform's messaging hub has also allowed us to keep in touch with guests throughout their stay, ensuring that we're providing excellent customer service."

"GuestService has helped us reduce our paper usage significantly, making our hotel more environmentally friendly. This feature has been well-received by our guests, who appreciate our commitment to sustainability. Additionally, the platform has helped us increase revenue by promoting our services through personalized messages and offers."

"As a luxury boutique hotel, we were hesitant to invest in a platform like GuestService, but we're so glad we did. The platform's tailored services have helped us stand out from our competitors, and our guests have appreciated the personalized attention they receive. Our account manager has been a pleasure to work with and has helped us make the most out of the platform. We highly recommend GuestService to any hotel looking to enhance their customer service experience."

"GuestService has transformed the way we manage our resort. Its intuitive platform has allowed us to streamline our restaurant operations, boosting efficiency and improving our guests' experiences. With GuestService's app, we can offer a personalized and seamless experience to our guests, and its reputation management tools have helped us connect with customers and increase sales. We highly recommend GuestService to any hotel looking to elevate their operations and guest satisfaction."
Get started to new way of customer relation